Meet Our Design Team - Darren Lewis
08/10/2018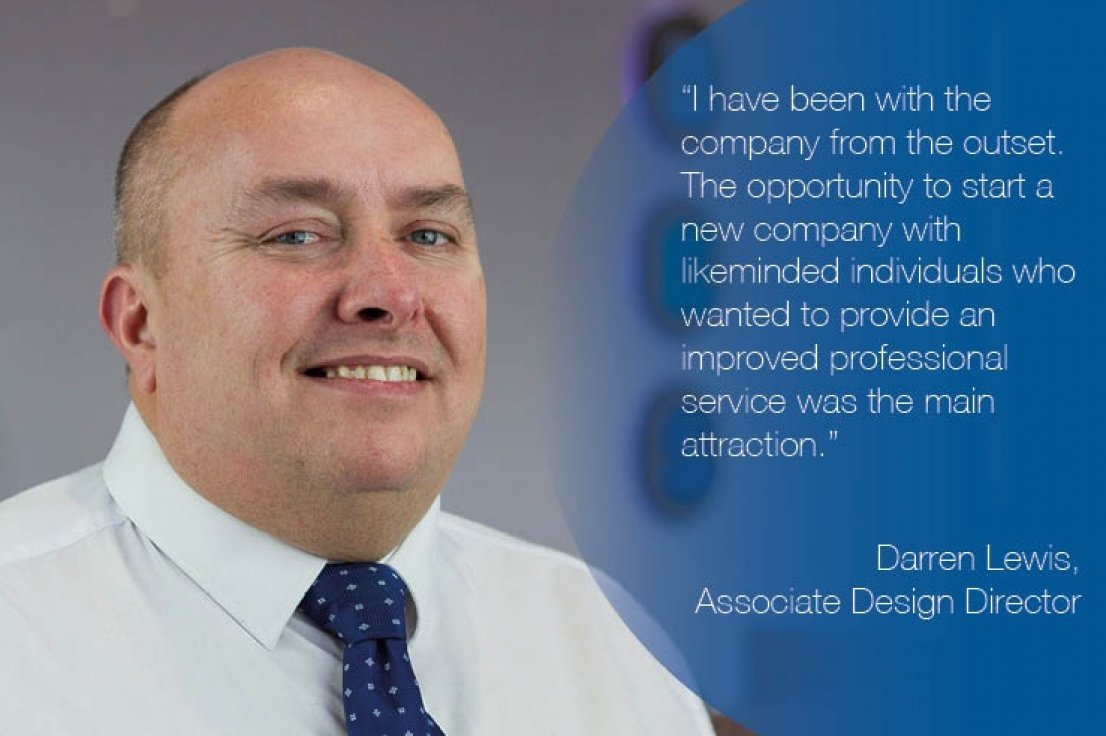 With more than 20 years' experience working within the pharmaceutical sector, Darren has played a lead role managing Architectural design and project teams throughout his career at BES.

In his interview, Darren talks about his current role at BES and explains what he finds the most exciting about working in the industry.
Tell us about your role and day to day responsibilities at BES.
I was appointed Design Director in January 2016 .I lead a team of multi-disciplined designers to deliver unique solutions on a wide range of projects. The role is all encompassing and includes: resource management, commercial responsibility for design projects, tendering new design commissions, development of staff, resolving challenges and continual improvement of our processes.
As an active leader I try to create an inspiring vision for the team and motivate the team to engage and deliver the very best service to our clients. As part of the senior management team, I am also involved in the business as a whole and assist in improvement initiatives and strategies to keep the company at the forefront.
What attracted you to BES?
I had been working for a Design and Build company working in the Pharmaceutical industry and had tendered my resignation to move on. This decision fortunately coincided with the infancy of BES and once the opportunity was presented to me I had no hesitation to join. I have been with the company from the outset.
The prospect of being involved at the start a new company, with other likeminded individuals, with the aim to deliver unsurpassed professional service, resulted in an immediate attraction. I was afforded the prospect to work alongside the best engineers I had come in contact with and the chance to further develop my potential.
What's a regular day like for you now?
No two days are the same! I like to start early to prepare for the day ahead. The day generally comprises of a mixture of meetings and staff interaction to advise, guide and push forward with the projects in hand.
We always have a good number of design projects, each with their own complexities and challenges and often at different stages. Our Lead Designers take responsibility for the delivery of their designs and are supported throughout the process by disciplined designers, S.M.E's and Revit coordinators. I ensure that we have the right resources in place and that each of the commissions are executed in a professional and timely manner whilst always looking for alternative solutions to improve the service we provide.
What excites you about working in the industry?
The construction industry is ever evolving - this is particularly evident with the Pharmaceutical sector. All projects are different, each with their own intricacies and we are constantly tasked with a plethora of issues that need careful consideration to resolve.
Our increasing investment in BIM and alliance to BIM level 2 accreditation has been particularly exciting. The development of our current protocols and the consistency of our design delivery is proving to be a great platform in providing 'thought leading' solutions that afford real value to construction and engineering, especially on site.
What are you working on at the moment?
Keeping the momentum going on our work load and ensuring a high quality delivery is always high on the agenda. Being a progressive company, it is essential that we continually improve not only our processes but how the key information is communicated to everybody involved.
We are always on an upward trajectory of improvement, I am working hard to finalise a number of new initiatives that once complete will be rolled out to the company and cascaded through the teams. The current improvement revolve around clarity, to ensure that definition is clear and expectations are exceeded.
What do you like the most about your job?
Having been with the company so long I am always proud and satisfied to see the development of our younger staff members. From the very start, we implemented an apprenticeship regime that supported development of young adults into true professionals. Some of our greatest assets have risen through the ranks and it is clear to see that they have grasped the opportunity and embraced the direction provided to attain their goal.
The culture and the ethical behaviour synonymous with the BES environment are true testament to all involved.
What would you say are the biggest challenges for you at the moment?
We are constantly trying to be ahead of the curve when it comes to improvement, design solutions and grasping opportunities that enable us to add true value through the life cycle of the project. This constant push is ongoing and is definitely a challenge.
Turning the paradigm of BIM into an expected norm and evolving standard design practices to align has an incessant impact on the staff who help to nurture and implement as we move forward.
Significant personal investment by the company in the people we employ, provides our staff with the tools to deal with their task at hand. Tailored courses to provide improvement like Personal effectiveness and leadership are typical examples that ensure a holistic perspective and provide a foundation for their core competencies.
What in your opinion are the qualities you need to be effective in your role?
Underpinning the knowledge and experience required for the role, I feel that true leadership is the primary quality for success. Positive communication is key, along with absolute clarity to empower and encourage the team to work effectively and efficiently whilst delivering professional solutions for our clients.
Individual interaction and support and guidance at all levels is an important quality, as is knowing the value in the team and how the team interrelate to formulate the team dynamics.
Sometimes we are challenged from left field, how we accommodate the issue at hand and provide a solution without having a detrimental impact provides evidence of our collective success.
To learn more about Darren click here