Meet Our Design Team - John Rush
23/10/2018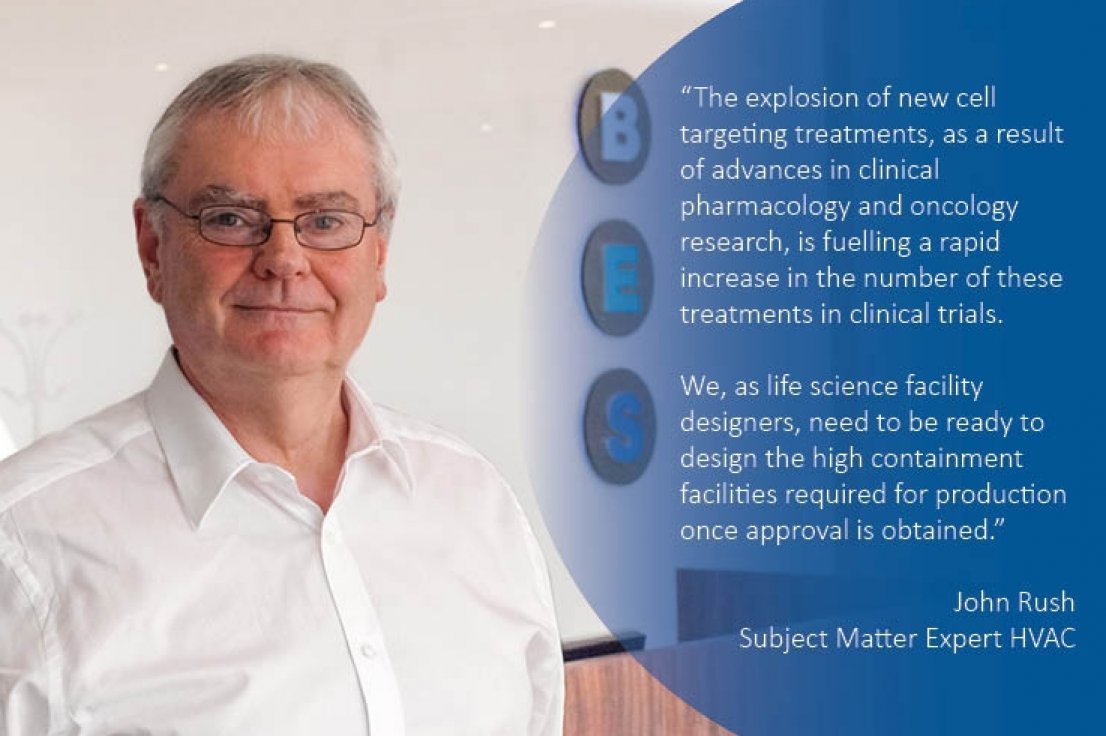 With over 45 years' experience working on a wide range of design and build projects specialising in HVAC, LEV and building services design for Cleanrooms and Laboratories in the Life Science sector, John works closely with clients, Mechanical Designers and Design Leads to advise on all areas of mechanical design. John carries out the technical review of mechanical designs.
During his time at BES, John has led the design of sterile and non-sterile cleanrooms, drug research and QC laboratories, hospital pharmacies, toxic and non-toxic drug compounding suites; both in the UK and Middle East.
Here, John reveals what he finds the most interesting about working in the pharmaceutical and healthcare industries, and explains his biggest professional challenges at the moment.
What is your role at BES?
My role is Subject Matter Expert for HVAC and building services. By the very nature of our work, and my own previous experience, this relates to pharmaceutical cleanrooms and laboratory supply and extract systems together with the associated mechanical services. In a nutshell I provide advice and guidance mainly for Lead Mechanical Designers. I also assist in developing designs at concept stage and work closely with clients, and other members of the design team, to bring a facility concept to a workable solution. A small part of my role is to write technical articles on matters relating to my area of expertise; a number of these have now been published. I report to the Design Director.
What attracted you to BES?
Firstly it would have to be the predominance of work in the Life Science sector; this was in tune with my previous experience and my wish to continue with this specialism. After I had joined the company it was obvious that BES management had the drive and determination to make the company a major player in this sector. If I wanted the challenge of designing for some of the largest pharmaceutical companies in the world, I needed to be working for the company that was engaged by them.

What's a regular day like for you now?
Well I would have to say that my day would be anything but regular. But to give you some idea, I have recently returned from trips to Alnwick, Qatar, Glasgow and Bracknell; in each case I have used my experience to assist our clients in developing their facility designs. At some point these projects will be picked up by our lead designers so I am in the unique position of being able to guide and advise from that initial project development work. More regular are the questions that leads and designers ask in relation to their own works; recently these have ranged from facility layout discussions for hospital drug compounding suites to Part L compliance issues.
What do you find the most interesting about working in the industry?
This is my favourite question and easiest to answer. The constant search for new drugs and treatments means that the life science industry is ever changing and ever demanding of new solutions to meet their development needs. The design challenges that this throws up is what excites me most. This constant developing and change is part of the industry that I work in and stringent quality, regulatory control and safety, add to the challenges that are presented. Often this result in very detailed consideration, and sometimes research, of GMP, psychrometric, containment principles and regulatory requirements; and that is exactly what I enjoy doing.
What are you working on at the moment?
I am currently working on a USP797 and USP800 cancer drug compounding suite for Abu Nakhla hospital in Qatar and a high potency active pharmaceutical ingredient (HPAPI) high containment cleanroom project in Alnwick. I am providing design advice for the tender of a sterile drugs facility in Sheffield and the usual day to day design advice on a number of ongoing projects.
What do you like the most about your job?
The variety of work associated with being involved with lots of different projects; new technical solutions and the application of known solutions to new projects. I enjoy passing on knowledge that I have picked up over the years and absorbing knowledge from those with different experiences. I am an avid reader so very much enjoy the research that is required to keep in touch with market changes and new applied technical solutions.
What are the biggest challenges for you at the moment?
The explosion of new cell targeting treatments, as a result of advances in clinical pharmacology and oncology research, is fuelling a rapid increase in the number of these treatments in clinical trials. We, as life science facility designers, need to be ready to design the high containment facilities required for production once approval is obtained. Product protection in sterile environments and very low occupational exposure to cytotoxic compounds, some requiring OEL of less than 1 μg/m3, is a typical requirement of such facilities.
What are the qualities you need to be successful as SME?
To be committed to an ongoing processes of knowledge acquisition through research and training. To gain an understanding of the ever changing technical issues involved in the design process with a view to passing this onto others when appropriate.
An ability to represent the company and be able to discuss with the client all technical issues associated with a project.
You can learn more about John here