ALL ABOUT OUR DESIGN TEAM: AN INTERVIEW WITH OUR DESIGN DIRECTOR
06/05/2021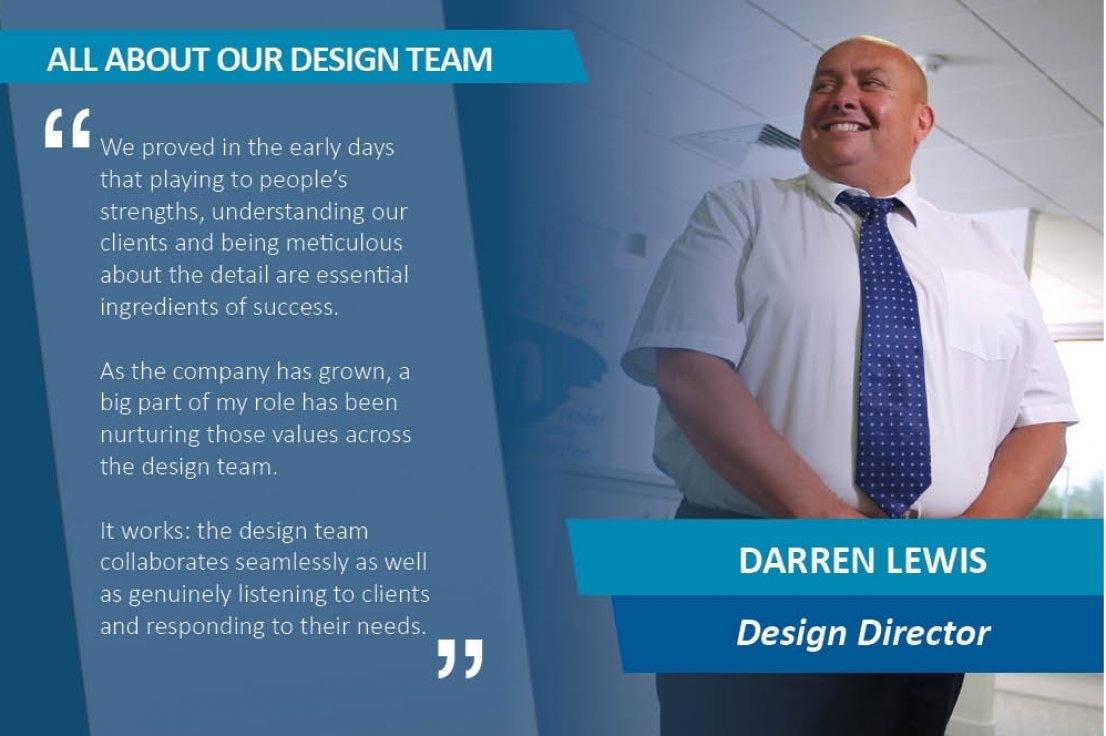 Multi-disciplinary expertise has helped BES develop an admirable reputation for delivering integrated turnkey projects for the pharmaceutical, healthcare and high tech sectors over the past 20 years.

Our design department has grown during that time, and we now have a team of 44 and counting. We've embraced technological tools too, with advanced software and proven BIM capabilities, ensuring we combine know-how with accuracy and legacy data, which helps our clients operate and manage their facilities throughout their service life.

Design continues to be an important part of our turnkey service, but we are also delivering an increasing number of independent design projects, thanks to the specialist skills and experience within our team. As a result, we've added both experienced and trainee resource to the team, under the guidance of our Design Director, Darren Lewis.

Darren has been with BES since the company was first established and here we've asked him about his role and his insights into the future of the sector.

What was your route into the sector?

I started my career as an apprentice for a small architectural practice local to where I lived. The workload was varied in both project classification and sophistication, which provided me with a perfect platform to develop an attention to detail that has served me well. An economic downturn at the time persuaded me to finish my academic education and I diversified into building surveying. With the recession affecting opportunities, I ventured back into architectural design and was fortunate to be offered a job for a turnkey contractor, specialising in sophisticated environments for the pharmaceutical sector.

That is where I first developed a passion for designing bespoke facilities that meet the strict parameters of technically demanding sectors. It is also where I learned that, as well as the technical requirements, these environments are also about people: they have to deliver as workplaces too. Previously, I was frustrated by the lack of client feedback and collaboration. Working for a design and build specialist ensured that I could add value through all stages of a project and obtain useful feedback. I gradually began to devise my own role around working with the client to ensure the design met the brief on every level.

It was all great experience, from both a specialist design and a client interface perspective. When I was asked to get involved with BES, it was the opportunity to combine the technical knowledge I had gained with a people-focused approach that prompted me to jump at the chance to get involved.

What was it like in the early days of BES?

When I first left a well-respected company to become part of start-up business with no clients and no track record, it might have seemed like a rash decision! However, it was a calculated risk, as I knew the other individuals involved, and we all brought skills and experience to the table. More importantly, perhaps, we all shared the same focus on developing a people-driven business, founded on collaboration and determined to offer a best-in-class approach to designing and delivering sophisticated environments.

The culture of the company began there. We proved in the early days that playing to people's strengths, understanding our clients and being meticulous about the detail are essential ingredients of success. As the company has grown, a big part of my role has been nurturing those values across the design team. It works: the design team collaborates seamlessly with our mechanical and electrical team and construction colleagues, as well as genuinely listening to clients and responding to their needs.

What are the challenges of working in the sector?

No two projects are the same, and every client is different too, so there are new challenges with every project and there is no such thing a typical job or an off-the-shelf solution.

What that means from a practical point of view is that we must invest time in getting under the skin of what the client needs, and in assembling the right team for the brief. We also have to work around the project-specific challenges. For a refurbishment project, that could involve latent issues with the building or designing the job for phased delivery around business as usual requirements. For a new build, the challenges might be balancing technical requirements with workplace environment, or delivering the project within a tight deadline.
And the rewards?

See all of the above. The variety and the technical challenges are a huge part of why I love the job, because it's all about finding the right solution and working with the client to exceed expectations. When you get to that point in the design process and you've ironed out all the obstacles and answered the needs of both the client and the end users, it is so rewarding.

What skills do you bring to the multi-disciplinary team at BES?

My architectural knowledge and design experience are central to my skillset but my degree in building surveying and close co-ordination with our construction team are also key, even on projects that are design only. Buildability and operational considerations are fundamental to making the project work for the client, so it is essential to embed an understanding of the project controls and sequencing in the design process. It's also important to make sure accurate and detailed design information is transferable to the construction team and I have been instrumental in our approach to technology, which has transformed how we share design detail across the team.

As a leader, I aim to inspire, educate, and encourage the team. A team that feels valued and able to demonstrate their ability is motivated and productive, so I am really focused on helping everyone on the design team achieve their career goals and develop their skills. As a company, we look beyond the skills and qualifications on a CV and consider the complete person: I have seen several talented design professionals come through the doors of BES as an apprentice and go on to become experienced specialists.

What opportunities do you see in the future?

Technology continues to drive change and BES is ahead of the curve in the way we are leveraging new platforms and methodologies. BIM has been a game changer in our sector because of the level of detail involved and the need to create adaptable, futureproof facilities. It allows an auditable trail throughout the full lifecycle of a building, from concept through to final demolition, and our clients can see the value in the digital lifecycle data we provide. We are also using point cloud surveys to deliver industry-leading levels of accuracy and this also provides complete accountability for the client because any deviation is immediately apparent. At BES we are looking at how BIM can reduce waste (time and materials), increase sustainability, add value and enhance quality.

For BES, the future holds continuing growth in our traditional sectors of pharmaceuticals, healthcare and clean rooms, along with transferring our expertise in sophisticated environments to other high tech and controlled facilities.
What's the best thing about working for BES?

There are two answers that I think would be pretty consistent across the team and are certainly true for me. One is the calibre and variety of projects we work on and the other is the team: BES is not just a company but a community where everyone supports each other and shares a common goal – to be the very best we can be and exceed expectations.