BES Apprentice Lucy Scott achieves First Class Honours
20/10/2023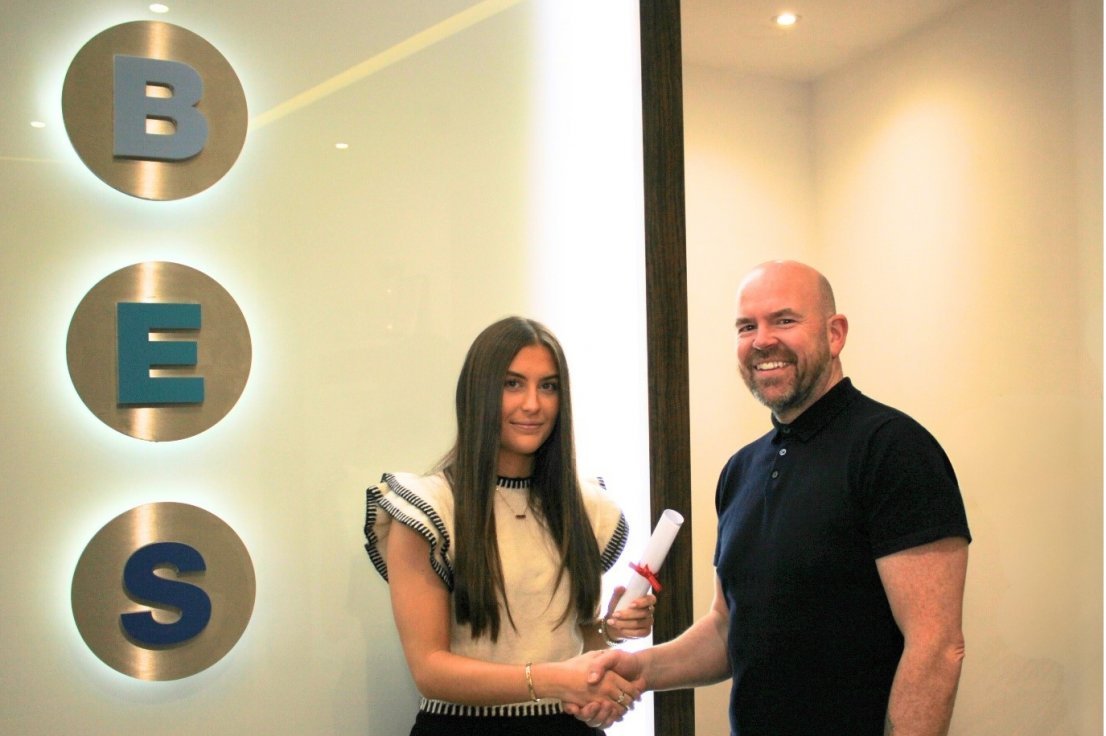 Lucy Scott, an apprentice at BES, has achieved a first-class honours degree at the University of Salford. After completing her A-levels, she took a one-year break from education and worked in hospitality at Manchester City before she started her journey at BES in September 2019 at the age of 19.
In 2020, during the COVID-19 pandemic, she started a 3-year accelerated course in Quantity Surveying. The original duration of the course was 5 years. However, an extra term was added over the summer instead of a long summer break, making it a total of 6 modules per year.
Lucy's engagement with her studies was impacted during the first two years due to the lockdowns, as many lectures were online only. However, things eventually returned to normal, and she found it great to see her lecturers and fellow students face-to-face. Engaging with others helped her a lot in understanding the course modules.
Lucy commented on her time at BES: "During my time here, I have had the opportunity to work on a variety of projects, visiting different live sites and completed projects, and working within several different teams which helped to develop my knowledge, skills, and understanding of the business. The teams and colleagues I have worked alongside have always been supportive of my work, sharing their knowledge and were always happy to offer any support with my studies where possible.
In the past year, I have had the opportunity to take on more responsibility in running my own projects, and I have enjoyed this challenge and feel it has benefited my development greatly. I look forward to my future at BES."
Lucy's journey at BES was marked by a whirlwind of studying and working. She was constantly on her toes, trying to balance both aspects of her life. However, despite its challenges, the experience was highly fulfilling for her.
The course was rigorous and condensed, requiring her to put in a great deal of effort. Nevertheless, Lucy believed that the rewards of her hard work would be worth it. After completing the course in three years, she feels a profound sense of pride and relief knowing she is now qualified.
Company COO Paul Marsh adds:
"During her time here at BES, Lucy has gone from strength to strength, from learning the ropes under more experienced surveyors to managing her own independent projects. Lucy has demonstrated great commercial acumen from the outset and diligently understands and manages the numbers. But just as important, if not more so, is Lucy's interaction with the team and she embodies the culture that thrives within BES. Always working with a smile on her face, her wicked sense of humour provides lots of laughter and we'd all be lost without 'Lucy's Larder'. A very bright future awaits Lucy here at BES."