Covid-19 Modular Isolation Pods
07/04/2020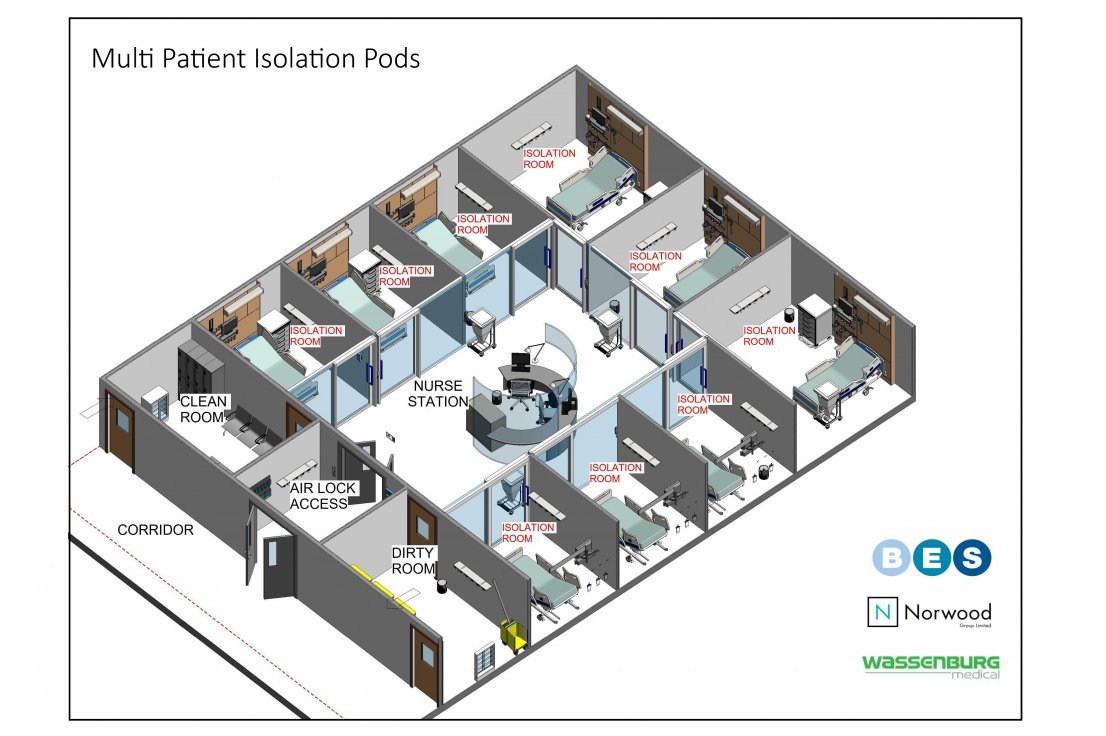 BES and Norwood have teamed up with Wassenburg Medical to combine our manufacturing experience and industry knowledge in order to produce a range of bespoke isolation pods. Developed utilising Norwood's specialist partitioning systems, the pods can help to battle the spread of coronavirus across the UK.
These fully demountable units can be installed into any fallow area within a hospital or can be provided as an external facility to form a temporary isolation ward or a testing station.
The flexibility of the construction allows each system to be pre-engineered and tailored to suit any requirements, incorporating solid or glazed panels. We can also provide a range of integrated services which can be concealed and housed within the pod's structure, delivering a complete solution.
All the products are manufactured off site at Norwood' production facility, thus the isolation pods can be supplied within days, with minimal disruption to ongoing operations.
Multi Patient Isolation Care Pods
Designed to help protect staff and patients inside hospitals from contracting COVID-19, a multi patient isolation pods have been developed to allow medical workers to oversee numerous patients from a central nurse base. This system provides multiple glass fronted isolation rooms with a central base and viewing station. Each room is supported by HEPA filtered ventilation system with positive and negative pressure. Ease of cleaning is supported by the design of surfaces and the interface between walls, floors and ceilings, along with any doors and windows. The design avoids awkward details and ledges to help effective decontamination.
Key Features:
• Multiple isolation rooms
• Can be erected within days
• Central nurse base and viewing station
• Glass fronted rooms for easy patient viewing
• HEPA filtered ventilation positive or negative pressure
• Fully coved hygienic easy clean
• Fully demountable
Testing Station Pod
Our pods can also be utilised to build modular, fully demountable and relocatable coronavirus testing station to help authorities fight and control the future spread of the virus through extensive testing in a safe and controlled environments. Our testing stations can be erected within days, providing segregation and isolation areas. Ideally positioned at the entrance to hospitals, train stations, airports or any area of mass gathering, these pods have been designed to be the first point of contact to enable mass screening.
Key Features:
• Can be erected within days
• Fully demountable
• Provides both Segregation and Isolation areas
• Positive & Negative pressure control
• Fully coved hygienic, easy clean
For more information about our solutions, please contact
G
avin Statham
.