Meet Our Design Team - Graham Pomfret
09/01/2019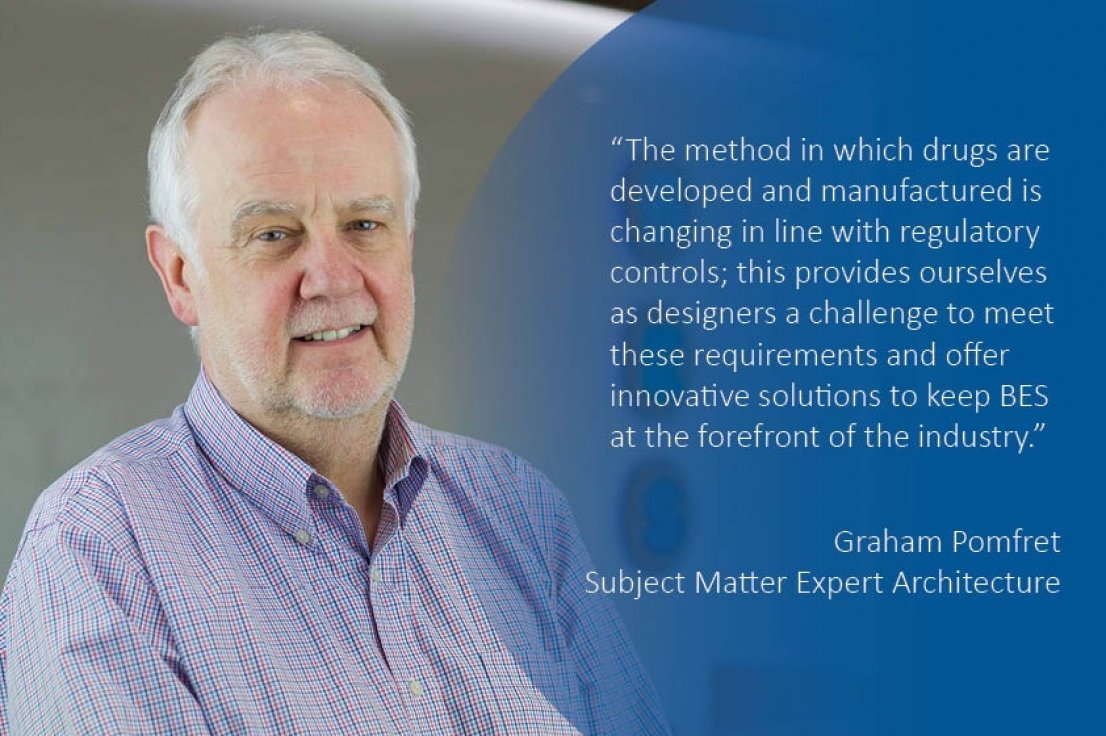 As a continuation of the 'Meet our design team' campaign, we'd like to present a short interview with another key member of BES team, our Architecture Subject Matter Expert, Graham Pomfret.
Graham has over 40 years' experience in the construction industry, initially working for a number of architectural practices in the North West before moving into the pharmaceutical/healthcare sector over 25 years ago. He works closely with clients to develop and finalise the facility layout, material/personnel flows and finishes, and alongside the BES multi-disciplined design team through to construction to ensure that value management and quality assurance processes were applied to the project. Graham has an in-depth knowledge of pharmaceutical and healthcare facilities coupled with a strong technical background in construction.
Tell us about your role and what you do?
The role of an SME within the architectural discipline is to provide guidance and advice on designs to achieve compliance to meet the standards required for pharmaceutical and healthcare facilities and undertake the initial conceptual design on front end studies where face to face meeting with client may take place.
From my background of being involved in the design and construction of varying pharmaceutical and healthcare facilities I can provide recommendations on the types of construction which may be best suited for certain types of facilities; I can also advise on what finishes would be suitable for room classifications.
What attracted you to BES?
I had been working within the pharmaceutical and healthcare industry since 1991 and was looking to further my career in this market; BES were gaining a reputation of one of the leading companies in pharma/healthcare design and build, working with blue chip pharmaceutical companies.
I had been at my previous company for 15 years and needed a new challenge and BES were the perfect choice.
What's a regular day like for you now?
It can vary day to day and can involve a number tasks, from looking at new designs at concept stage for existing clients or future customers, which can require site visits to discuss the clients objectives with the end users, agreeing material and product flows, then working through their requirements to achieve a proposal with which they are satisfied and continue into construction.
Another task is to undertake design technical reviews on in house projects with the Design Leads.
I also visit sites to view our completed facilities to carry out an As Fitted reviews and report back to the Design Director.
What excites you about working in the industry?
The number of varying projects which you become involved in, from the scale of the project to the classification, the specialist requirements specified by the clients and the challenges these can bring.
The method in which drugs are being developed and manufactured is changing in line with regulatory controls, this provides ourselves as designers a challenge to meet these requirements and offer innovative solutions to keep BES at the forefront of the industry.
It is also very satisfying to deliver a fully completed facility which meets the client's needs and complies with all regulatory requirements.
What are you working on at the moment?
I am working on a number of design submissions for laboratories, storage facilities and packing lines. I am currently going through the design process with our client for a new filling line located within an existing facility.
On a daily basis I carry out internal design reviews of other projects within the company, also reviewing design documentation.
What do you like the most about your job?
It can be very rewarding in terms of the nature of projects we deliver. We work on a wide range of projects from conceptual design through to construction including Stem Cell Research Laboratories, Sterile Manufacturing Facilities, Human Tissue and Cell Culture Facility and Sterile Services Decontamination Units. The satisfaction in knowing that someone's quality of life can be improved by the work we carry out in these facilities is very rewarding.
What would you say are the biggest challenges for you at the moment?
Being aware of the ongoing changes and development of the industry, be it production or regulatory, and passing this information to the design group, ensuring that we are producing fully compliant designs.
Running parallel to this is to ensure that BES remain as one of the leading design and build companies in the Life Sciences sector.
What would you say are the qualities you need to be successful in your role?
Never stop learning! As mentioned before the industry is constantly changing.
I believe that you need to be able to get along with people, be it the client or BES personnel and to have the confidence to communicate with senior personnel within a client's organisation to ensure they are confident that BES not only understand their requirements but that we can provide a compliant as well as cost effective solution. I also think it helps to have a solid background of various pharmaceutical manufacture, laboratory and cleanroom projects - in my case 26 years.