Meet Our Design Team - Martina Antalova
06/12/2018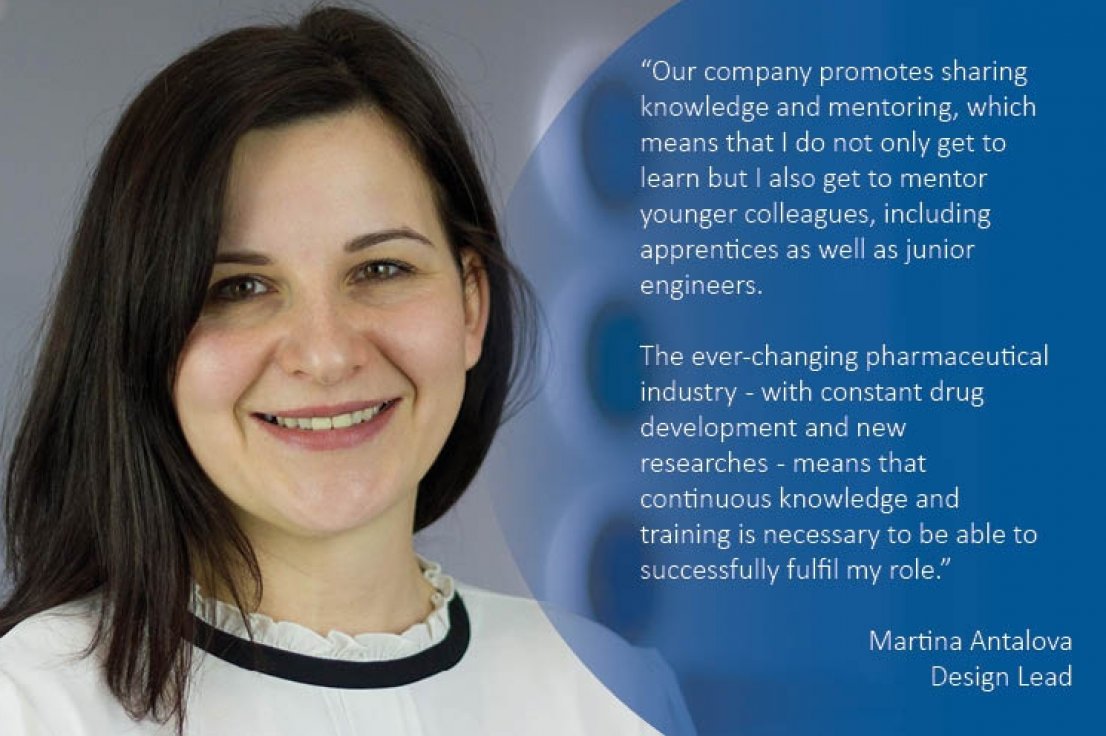 As part of our campaign 'Meet Our Design Team', we'd like to introduce Martina Antalova, our Design Lead.
Martina leads the design delivery, ensuring the design's technical and commercial success; responsible for all aspects of the HVAC design, she guides our multidisciplinary dedicated project teams to produce fully integrated design solutions. Martina provides technical expertise and innovation through all stages of the project from front end consultancy to detailed design. Her role requires strong communication skills, as she works closely with the clients to develop and finalise specialist projects.
In her interview, Martina tells us about her role and current projects; she explains what she appreciates the most about her work and what qualities are required to be successful in her role.
Tell us about your role?
My role is Lead Design Engineer. As we specialise in the multidisciplinary design and build, my responsibilities revolve around leading our dedicated project design teams of architects, structural, civil and MEP engineers.
I represent BES during initial meetings with our clients, also liaising with them during further design phases. In addition, I am responsible for the commercial success of the project, managing the design team in accordance with the design programme. I also coordinate all aspects of a mechanical design.
Another rewarding part of my role is to mentor younger engineers within the company, supporting them in their professional development.
What attracted you to BES?
I have previously worked for a building services consultancy where I was involved in front end designs and detail design proposals, but I lacked involvement in the design and project implementation during the construction phase. I also wanted to be part of more challenging and specialist projects. At BES, I am able to do both. Pharmaceutical design is different and often very challenging, having its own guidelines over and above the building services codes. No project is identical and each has got its own challenges. I am able to learn something new every day. The fact that we are design and build company enables me to be involved in front end design whilst being able to oversee the project implementation and its completion.
What's a regular day like for you?
My day-to-day activities range from actual design, project management and liaison with our design team and clients, ensuring that projects are delivered on time and to the client's satisfaction. Commercial management, planning and executing QA documentation related to projects I work on takes time too and it is as important.
What excites you about working in the industry?
Our company promotes sharing knowledge and mentoring, which means that I do not only get to learn but I also get to mentor younger colleagues, including apprentices as well as junior engineers. The ever-changing pharmaceutical industry - with constant drug development and new researches - means that continuous knowledge and training is necessary to be able to successfully fulfil my role.
What are you working on at the moment?
I am currently working on a number of projects as a lead designer, and on some projects as a mechanical designer, where I am working alongside our Subject Matter Experts. These projects are particularly interesting as I am able to widen my experience and learn. These include cleanroom suite delivery for a high potent active pharmaceutical ingredients production, and a compounding suite for a cancer drug oversees. This means I need to understand US Pharmacopeia's alongside understanding requirements of SAFEBRIDGE categorisation for high potent compounds.
What do you enjoy the most about your job?
I feel lucky that I can do what I always wanted to do. Every design concept is different and each has its own challenges and regulatory requirements. As previously mentioned, I learn every day and I can pass my knowledge onto other engineers. Sometimes the design activities can be a little repetitive, as we still need to do all the detail calculations, prepare construction drawings, and go through the builders work. Working as a lead engineer gives me the opportunity to leave the office to meet clients, and work on many different activities, which make my days at work more interesting and exciting.
What are the biggest challenges for you at the moment?
We have been awarded the D&B contract for a couple of projects where I am involved in the 1-3 RIBA design stages as a lead and the HVAC designer. I want to make sure that these projects will be delivered to a client satisfaction and we hit the critical project milestones on time and to the highest standards.
I need to continuously expand my knowledge to have a full in-depth understanding of the specific technical requirements and regulatory standards, ensuring every project is expertly designed and executed with industry-leading innovation.
What would you say are the qualities you need to be successful in your role?
I believe that to be successful you need to have a passion for what you do; be prepared to face challenges; be committed to learning and sharing knowledge as well as to be happy at your workplace. To achieve this, you need to have the right work environment, support and the right work-life balance. If you can find time for yourself and family, being able to reflect on your needs and find time for your hobbies it leaves you energised and motivated to pursue a career of a female engineer.