Meet Our Design Team - Mike Robinson
23/01/2019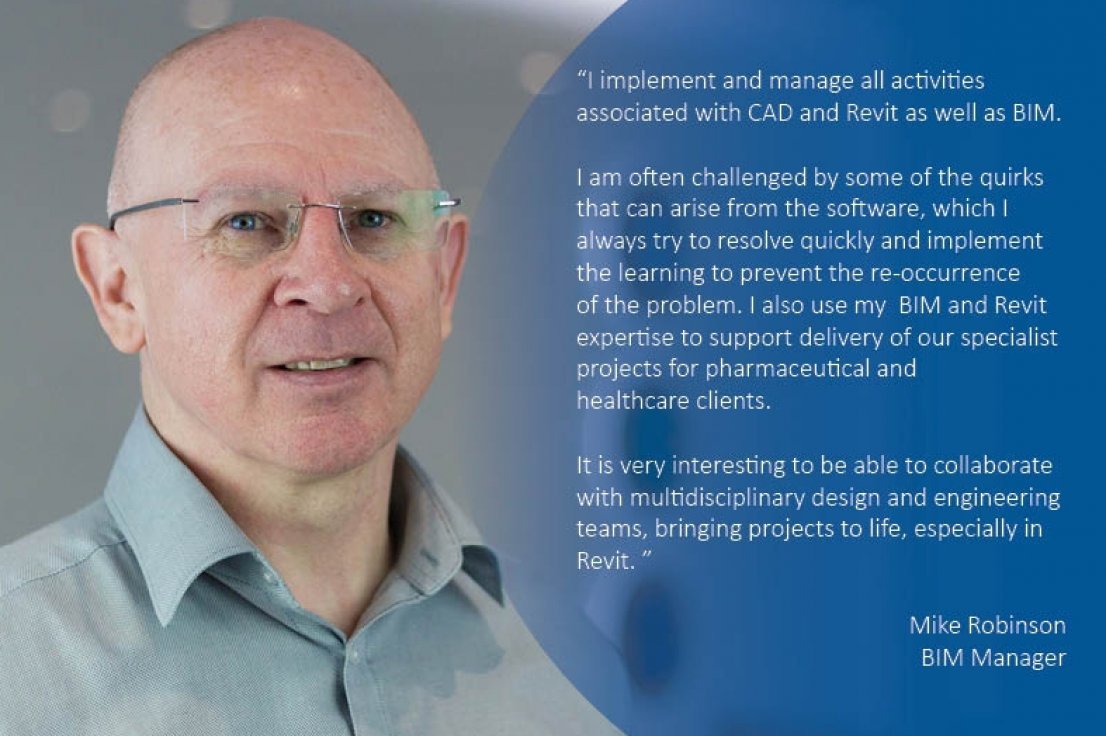 To conclude the 'Meet Our Design Team' campaign, we would like to present an interview with our BIM Manager, Mike Robinson. Mike is the focal point of development, implementation and monitoring of the use of BIM at BES. His primary responsibility is to manage and coordinate BIM standards on all related projects, files and models. He works closely with the Design Director and Principal Architect to help guide the implementation of BIM improvement strategy across the company and provides training to new staff, as well as updates our existing employees on the latest BIM protocols and procedures. In his interview, Mike explains what he finds exciting about his role and what aspect of his work is the most challenging at the moment.
Tell us more about your role at BES?
My current responsibilities include preparing guidance documentation for production of drawings and BIM protocols. I also provide support to all CAD and Revit users to enable a smooth project workflow. I am the 'go-to person' for all things related to CAD and Revit within the Design team.
Recently, I have been producing drawings and 3D models for one of our major projects - £50 million design and construction of warehouse and packing facility.
What attracted you to BES?
At the time of joining BES, I saw it as a new challenge, as my previous employment had not been in building services. I'd worked for a company specialising in design and build of machinery for the paper industry. As all design works involved 3D modelling, I had gained the transferrable skillset that could into my current role. Fortunately for me, at the time, BES was in its infancy and I had the time to learn about the industry from our experienced senior Design Engineers.
What's a regular day like for you now?
In a word – Busy.
Day to day, I implement and manage all activities associated with CAD and Revit as well as BIM.
I am often challenged by some of the quirks that can arise from the software, which I always try to resolve quickly and implement the learning to prevent the re-occurrence. I also use my BIM and Revit expertise to support delivery of our specialist projects for pharmaceutical and healthcare clients. It is very interesting to be able to collaborate with multidisciplinary design and engineering teams, bringing projects to life, especially in Revit.
What do you find the most exciting about working in the industry?
The challenges that BIM brings to the industry and the innovative software developments that are being discussed in our professional world. Autodesk are constantly developing their programs and with the promise of Project Quantum, the future seems very exciting.
With the evolution of VR, the construction industry is looking at the best ways of using this technology. At BES, we are also evaluating VR advantages, utilising best options to enhance our client's experience.
There is still a lot more development to be done to make VR cost effective and more portable.
What are you working on at the moment?
I have been tasked with creating new Intranet pages for the design department to improve our internal communication and enable easy access to all documentation. Another string to my bow! I am also working on a project for AstraZeneca which I have been involved in over the last three years. I have been helping the team design the HVAC and pipework services within a Low Bay and 30m High Bay Warehouse. Although it may seem simple, the construction has to be implemented whilst the building is still "Live". We have taken a phased approach, implementing the construction works in stages by building temporary walls, utilising running part of the services, then when the personnel have moved out of the proposed working zone whilst carrying on with construction / services installation.
The project has been fluid - it has brought fresh challenges when working in Revit. It was very demanding but also rewarding to deliver fully co-ordinated service layouts that are completely clash free.
What do you like the most about your job?
The daily variety of my work. No two days are the same. From building part of our new intranet to resolving technical issues with BIM and Revit, my days are constantly filled. I like the progressive nature of all I do. All my tasks including writing standards, overseeing BIM projects and helping the team to work more efficiently, contribute to further growth of BES, which gives me a satisfaction and encourages me to stay motivated and positive.
What would you say are the biggest challenges for you at the moment?
The big challenge for me personally, and I also think that for the company as whole, is to successfully pass all upcoming audits to achieve the official BIM level 2 status. I am overseeing all necessary processes, ensuring that we create and follow the strict protocols required to meet expectations of the auditors. I find this aspect of my daily routine to be a big challenge as I have to make sure our design teams are working efficiently and in accordance with all BIM level 2 processes. I firmly believe that soon we will achieve this prestigious status, becoming one of a few companies in our industry which is on this level.
What are the qualities you need to be successful in your role?
Patience is the obvious virtue required to cope with the learning process of BIM that the company is currently undertaking. Being able to communicate with all people at all levels is a quality that is most definitely required, as BIM touches every level of our business. The ability to have an understanding of a problem and then passing on a solution with confidence is another crucial quality. This then builds confidence within the team and ensures we have a great working environment.