The benefits of BIM: an interview with our BIM Manager, Mike Robinson
10/06/2021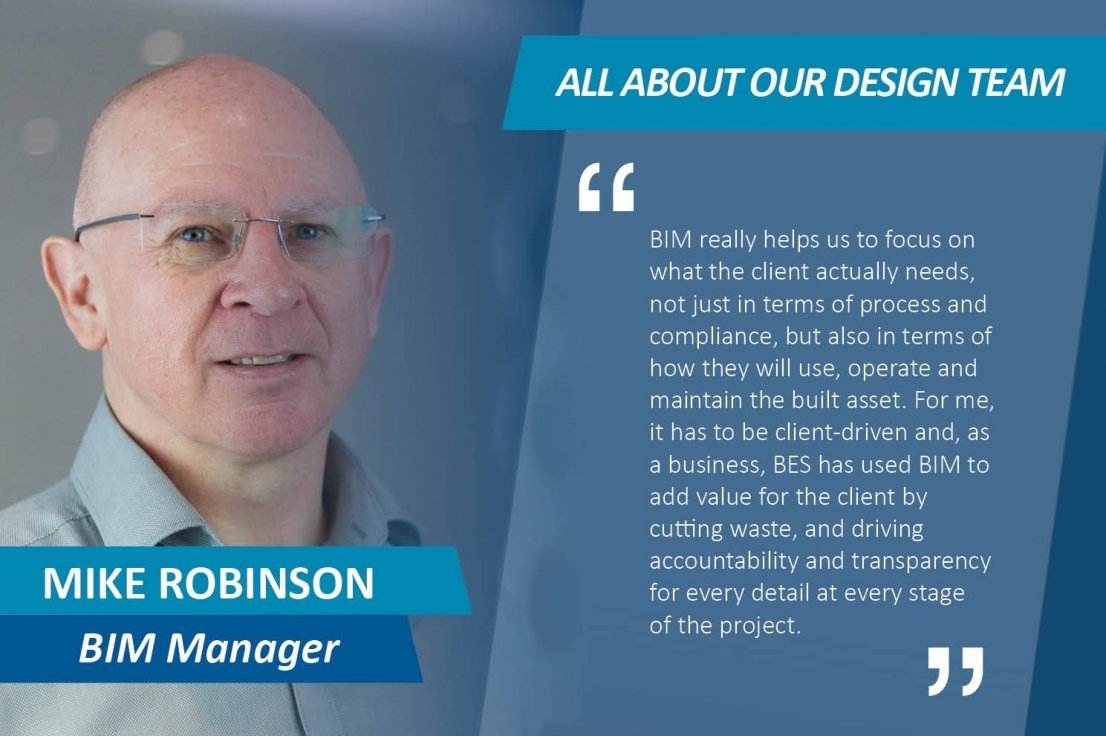 BIM (Building Information Modelling) is an approach to design and construction that drives collaboration across delivery partners. BIM processes embed detailed information in the building model(s) so that every detail can be shared, verified and tested, resulting in smoother project delivery and easier building management during the operational phase. In the UK, BIM became a mandatory requirement for all centrally procured, publically funded projects in 2016 and the UK has its own BIM standards which are updated as products, design practice and building methodologies evolve.
With tangible benefits for both the delivery partners and the client, BIM is an approach to design and construction best practice that BES has embraced for several years. It aligns well with our multidisciplinary service offering and collaborative approach and many of our clients in the pharmaceutical and life sciences sector understand the benefits it offers them throughout the design, construction and operational phases of their project. Many of our projects are complex and mission-critical facilities; delivering them in BIM provides greater accuracy, transparency and resilience for our clients.
Ensuring we keep pace with developments in BIM and revise our protocols in line with evolving UK BIM standards is the responsibility of our BIM Manager, Mike Robinson, and we caught up with him to ask him about his role and his experience of BIM.
How did you get into BIM?
I came to the methodology through the software really. I'd been using Cadduct software which was bought by Autodesk, a software company that was promoting the use of their Revit product and BIM.
I was curious to know what it all meant and joined the Manchester Revit User Group (MRUG), which held regular meetings to share knowledge and explore developments in the field, with industry experts giving talks and demonstrations. I learned a lot through the group, and it's still my go-to source of information for everything related to Revit and BIM. It's also a great place to find out about what the future of BIM looks like, new software and what other companies are doing.
How did you become BIM Manager at BES?
I joined BES in 2007 as an MEP Coordinator in the design team, having previously worked as a design engineer in the paper industry. I was hired for my knowledge of 3D modelling, because the leadership team was keen to embrace technology that could help to make the design process more accurate, particularly for complex building services. I was able to bring knowledge of 3D design to the company, along with enthusiasm for the possibilities it offered for BES and our clients. BIM is much more than designing in 3D but creating the 3D models is integral to BIM delivery, so making the transition to 3D design practice was an essential step towards implementing BIM.
My growing interest in BIM and the work I'd done to find out more outside of work dovetailed with the company's BIM ambitions and I was promoted to the role of BIM Manager in 2018
How is BIM helping you with projects?
BIM really helps us to focus on what the client actually needs, not just in terms of process and compliance, but also in terms of how they will use, operate and maintain the built asset. For me, it has to be client-driven and, as a business, BES has used BIM to add value for the client by cutting waste, and driving accountability and transparency for every detail at every stage of the project. It has led us to streamline many of our methods and generate clear, concise, quality information on our projects.
We have utilised BIM on projects for a range of prestigious clients, including AstraZeneca & GSK. BIM is becoming seen as an integral part of managing a building post construction, so our clients are relying on us to provide high quality, accurate information of the highest standards and to meet their requirements.
How do you think BIM will help the pharma and life sciences sectors in the future?
There is a real sea change amongst clients in these sectors in terms of the value they place on digital twinning. They can see the potential for using a model to view real-time data, which will save them time and allow them to predict maintenance needs or respond quickly to equipment failure.
It can take time to implement BIM processes and educate users. Some digital tools have not lived up to their promise, which has been a hurdle to gaining confidence in BIM project delivery in the past. The software solutions have seen a vast improvement and have become easier to use, however, which makes BIM delivery more efficient and cost effective. The pharma and life sciences sectors are early adopters so are already on board because they can see the benefits outweigh the investment.
The UK government recently set a legal target to cut our carbon emissions by 78%, against 1990 levels, by 2035. How do you think BIM can support this drive?
I believe BIM will play a big part in achieving the goals set out by the UK Government. BIM drives waste reduction in terms of time, materials and data; which all helps to develop sustainable buildings with the help of environmental analysis tools. As BIM software becomes increasingly sophisticated, especially with the advent of Artificial Intelligence (AI), we will be able to generate multiple options almost instantly, allowing us to design buildings that can operate more efficiently in ways we've never even seen before.
There is a huge drive for digital twinning from the CDBB (Centre for Digital Built Britain) and their National Digital Twin Programme because digital twins will allow facilities managers to view real-time data via a digital representation of their built asset. Having access to live information will reduce maintenance issues, save time and improve the predictability and sustainability of a building over its lifecycle. New digital technologies that provide data for analysis lie at the heart of the value we can deliver through digital twinning.
At BES, we've been investing in the digital tools and expertise across the business to enable us to leverage technological developments to achieve tangible sustainability goals. Indeed, I believe using BIM will not only help us fall in-line with UK Government targets, but, in some cases, it will enable us to exceed the requirements.
What's next for BIM?
The current UK BIM standards are being adopted with excellent guides written by the UK BIM Framework to assist with understanding and implementation. Software is constantly evolving too, which brings new ideas to BIM along with improvements to existing formats for a smoother BIM journey. The drive to make buildings more energy efficient is accelerating change and, as BIM continues to mature, more consistency in processes should aid successful BIM across the delivery chain.
What does the future hold for BES and BIM?
With the multidisciplinary expertise and software tools we have in-house, we are ready to deliver projects aligned with UK BIM Framework.
There is growing demand for projects to be delivered in BIM amongst our clients because BIM offers them quality assurance at design, during delivery and throughout the lifecycle of the asset. As a forward-thinking business, we have decided to work towards accreditation to ensure we produce project data to the highest standards, without over-engineering. Our focus is on delivering the correct information to the correct people at the right time and ensuring the models are as complete and accurate as possible.
We are currently developing our BIM strategy, which will be based on client feedback so that our BIM capabilities are built around their requirements. We are constantly looking for the next digital tools to help us deliver our projects collaboratively in BIM. Each time we deliver a project we embed learnings into our BIM processes, and all our clients benefit from that accumulated knowledge and experience.
As the pace of BIM development escalates over the next five to ten years, our aim is to be able to offer BIM project delivery with a fully-submersive digital twin. Our clients' BIM knowledge is growing alongside our own capabilities, and our first interactive analytical digital project is already on the horizon.