Raising the bar with digital design tools
29/04/2021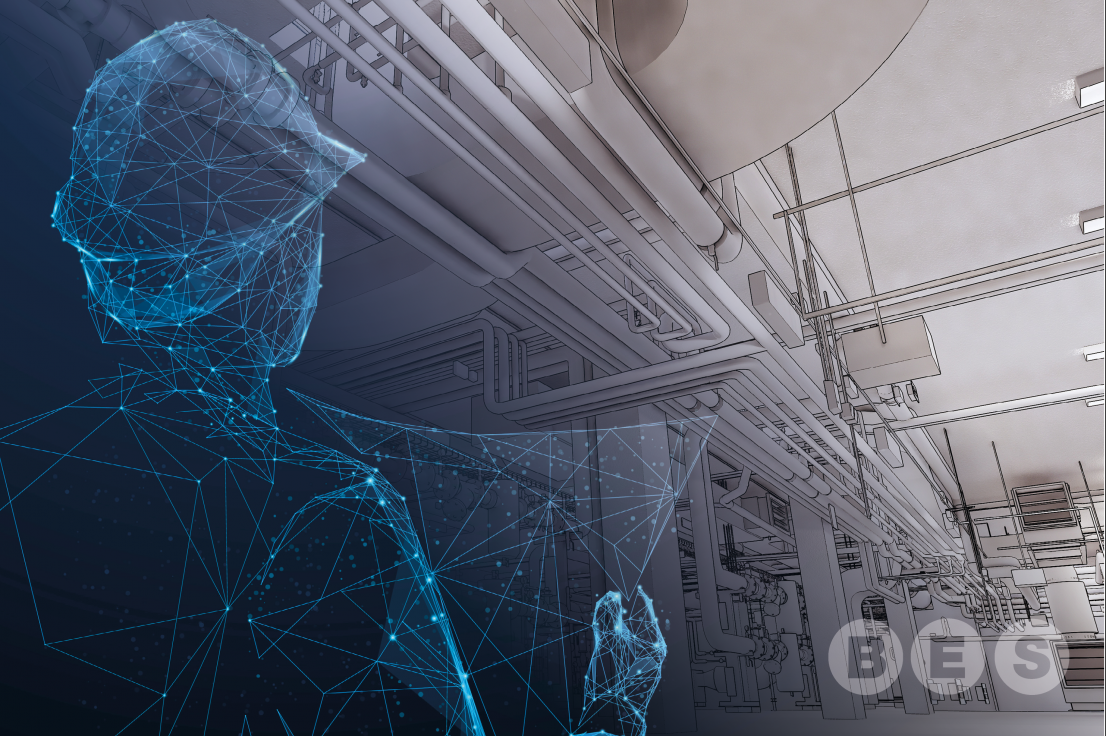 At BES, we believe that our people are our most important assets because their expertise powers everything we do. It is also important that we leverage the capabilities of advanced technologies and digital tools. This enables us to maximise the value of multidisciplinary collaboration and offer more efficient project delivery and an enhanced customer experience.

Technology has always played an important role in our service offering; we have been using Revit as a 3D coordination, design & visualisation tool for some time and are ahead of the curve in our sector in terms of early adoption of new platforms. Over the past couple of years, we have built on this strength, by investing in technology solutions, that provide an integrated working environment for the design process, supporting true collaboration and interoperability.

Our software investment strategy is based on our experience of what customers need throughout the project journey and has been carefully planned and considered to ensure it improves our offering by dovetailing with our existing processes and the way we work with customers as a joined-up team. We have handpicked software that will help us continue to deliver even the most complex of projects.

This blog will outline the specialist solutions we have chosen and how our investment in an integrated suite of technology enhances our capabilities to provide an efficient design, construction and commissioning process for customers across the pharmaceutical, healthcare and high-tech sectors.

Document Management System

One of the benefits that our customers gain from working with BES is completely joined-up project delivery from initial concept through to completed validation. Our investment in technology is part of a strategy of ensuring that this customer journey is as integrated and efficient as possible, enabling us to deliver projects more quickly and accurately. The more of our proven processes we can support with technology in-house, the more streamlined project delivery becomes, with no risk of the delays or added costs that can be associated with outsourcing technology-based design or verification requirements. Not only does this approach enables us to share information across all disciplines and project stages within the BES team, it also enables us to share information with customers in real time, aiding transparency, accountability and having a single source of truth.

At the centre of our network of technology solutions is Revit; our core 3D coordination, design and visualisation tool, which provides data to the other programs we've invested in. This links directly to one of our document management system (DMS), Excitech DOCS, enabling our team to provide links for our customers to access information about the design and progress of their project.

To ensure that the DMS provided by Symetri is simple to use and meaningful for our in-house team, we have closely aligned the interface with our existing, proven processes. In this way, technology is not changing how we work, but is leveraging additional value from our existing processes. This ensures faster project delivery, more efficient workflows and improved communication across the project team, allowing us to leverage the full potential of Revit modelling throughout the design and project delivery cycle.

Supporting Complex Mechanical Design

Throughout the design process, our architectural and building services teams work hand in glove to ensure the project's requirements are delivered. Often, however, due to the highly specialist facilities we build, much of the complexity involved in the design lies in the mechanical engineering requirements. Amongst the technologies we have invested in to support a faster and more accurate mechanical design process is IES, a virtual environment analysis and performance modelling software that can be used both for design and design verification.

With IES, our mechanical engineers carry out much more complex and accurate calculations more efficiently, enabling them to refine and optimise the design. The tool speeds up the mechanical design process for a streamlined critical path and also enables our engineers to verify the effectiveness of the design as a pre-validation check. Our IESve capabilities include computational fluid dynamics (CFD) modelling, which enables us to simulate airflows and eliminate dead spots. This ensures we improve the energy efficiency of the finished design, in compliance with the ISO 14644 standard, while delivering against the required performance criteria. It also allows us to re-calculate and re-model as often as we need to and to verify the viability of the design before construction, avoiding any risk of failure at validation. You can read more about our CFD capabilities in our blog on that topic.

Ensuring Compliance

Our investment includes a number of software tools that provide accurate specification information, which streamlines the design, cost and value engineering processes, while ensuring that our design complies with all the relevant standards.

Our NBS Chorus tool is a fully-cloud-based system, linked to Revit, which enables design and specification in a single process using manufacturers' product data. Because the system is cloud-based, it can be used on any device from any location, aiding collaborative working and joined-up processes across the BES and customer teams.

We use this tool in combination with Construction Information Service (CIS) software, which enables us to verify the design against all relevant standards, and alerts us to any non-compliance so that this can be rectified at design stage.

Engaging Customers

The focus for our investment in technology is our customers. Not only have we integrated new digital systems to aid speed of delivery and improved collaborative processes; we have also chosen programs that answer our customers' requirements during both the construction and operational phases of their facility's lifecycle.

We have invested in several sophisticated visualisation systems, such as Lumion. These software applications aid visualisations and enable customers to input into the design process in a meaningful way. Both systems allow us to produce detailed, high definition images and animations in 3D environments. This approach enables all stakeholders to experience what the finished project will be like, both visually and spatially. We can even scan in the particular finishes specified for an as-built experience. Both of these applications allow user groups to respond to the design, and from their feedback modifications can be made. This process enables our customers full control and allows them to take internal stakeholders on the project journey.

The Revit model is also fed into Autodesk Navisworks Manage, converting it to a model that can be read by all delivery chain partners, and aids clash prevention throughout the design and construction phases.

Using the data fed into our Revit models, we can output into IFC (Industry Foundation Classes) and COBie (Construction Operations Building information exchange) formats, which in turn will feed directly into Facilities Management systems, aiding operational management and maintenance of the building for the lifetime of the asset.

Integrated Information

As a specialist in technically-complex environments with integrated design and construction expertise, our aim is to design performance-led facilities without losing sight of the need to keep construction and operational costs under control. Technology supports this integrated approach across the team, enabling an effective interface of each process and ensuring all information is available to the BES team and our customer at any point, resulting in an improved customer experience and faster project delivery to the highest quality standards.